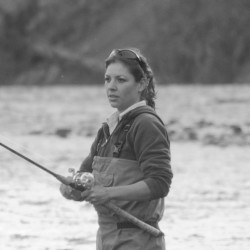 Erica D. McCormick, MSc, RPA, GISP.
GIS Professional and Registered Professional Archaeologist
Erica McCormick has 14 years of experience in the application of GIS technologies and cultural resources with an emphasis in resource management and environmental assessments. She has extensive experience collecting, mapping, analyzing, and managing spatial data on projects throughout the Pacific Northwest, the US, and internationally. Erica is proficient at performing habitat assessments, site suitability analyses, archaeological predictive models, volumetric calculations of soil contaminants, groundwater plume modeling, and wetland delineations, as well as writing cultural resources reports and providing Sec 106 oversight. A well-regarded technical editor, Erica exhibits strong research and writing skills in conjunction with a high level of attention to detail. She applies these strengths to every aspect of her work resulting in excellent final deliverables.
Erica began her career as an Archaeologist, utilizing GIS to document sites, analyze settlement patterns, and to design predictive models. Her interests in GIS, conservation, and environmental regulation and compliance have allowed her to work on a wide range of rewarding projects and to develop a unique professional network. Professional relationships include Federal, Tribal, and local governments; DOTs; utilities such as BPA, wind farms, and LNG pipelines; SHPOs; museums; and numerous consulting firms. She holds a Graduate Certificate in GIS from Portland State University, an MSc in Paleopathology from the University of Durham (UK), and a BA in Anthropology (minor in English) from the University of Oregon. Additionally, she is a Registered Professional Archaeologist (RPA) and a certified GIS Professional (GISP). Erica actively stays current on new geospatial advances and regularly attends conferences and workshops.
Erica has lived in the Pacific Northwest for most of her life and avidly enjoys the outdoors, particularly fishing. She also hikes, snowshoes, and volunteers for two 501(c)3 organizations to preserve our wild steelhead, salmon, and sturgeon. When not exploring new geospatial techniques, she can usually be found fishing an Oregon river with her equally adventurous husband.
Professional Certifications
Geographic Information Systems Professional (GISP)
Register of Professional Archaeologists (RPA)
Professional Memberships
North American Cartographic Information Society (NACIS)
Portland Area GIS Users Group (PAGIS)
Society for Conservation GIS (SCGIS)
Society of Women in GIS (SWIGIS)
Northwest GIS User Group (NWGIS)
Oregon Historical Society (OHS)
Urban and Regional Information Systems Assoc (URISA)
Northwest Association of Environmental Professionals (NWAEP)
Community Involvement
Coastal Conservation Association (CCA)-Board Member, Banquet Chair – Mt. Hood Chapter
Association of Northwest Steelheaders (ANWS)-Member